Hello people from the internet !
After a month and a half in New York, it's time for me to come home. For those who didn't follow, I spent time here to attend a 5-week training in an Art School (SVA School of Visual Art) to learn about new technique in illustration. I also needed to unclog my inspiration, that had been quite stuck for the past few months. As I have absolutely no academic background in arts, I sometimes feel a little illegitimate in this world. But apparently it's a self-taught person disease, so I shouldn't worry.
All this is very cute but that's not ALL I did up there. In fact, in New York, I went a little crazy. I mean, I actually was quite a badass.
I made some street art in the streets of New York, yup ! And I had a blast… Going out at night, hiding from the NYPD, rushing off not to ge busted, getting back in the car and vanishing in no time… #goosebumps
And by the way, wether it'd be the rush of adrenaline, the fear or the freedom, I don't know what happened but my brain had never been so productive : new ideas popping out every 2 minutes, it was crazy, like a fireworks of neurons.
Of course, it wouldn't be fair not to give some credit to my friend Bill, aka ConsumerArt on Instagram for it, because he taught me everything and helped me through the entire process.
The best part was then when people started to shoot pictures and post them online, tagged me on Instagram… There's even a guy, Joey Teacup, who went on a Sophie Hunt and found 14 of them in one day !
A mom sent me a picture of a daughter too, heart to you Chloe. I loved it !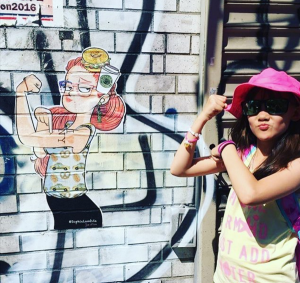 This experience was quite crazy. It might be a time-consuming process, but it's worth it ! I loved the feedbacks, I got a lot of personal messages too. In a word, that kind of adrenaline, is the one I like.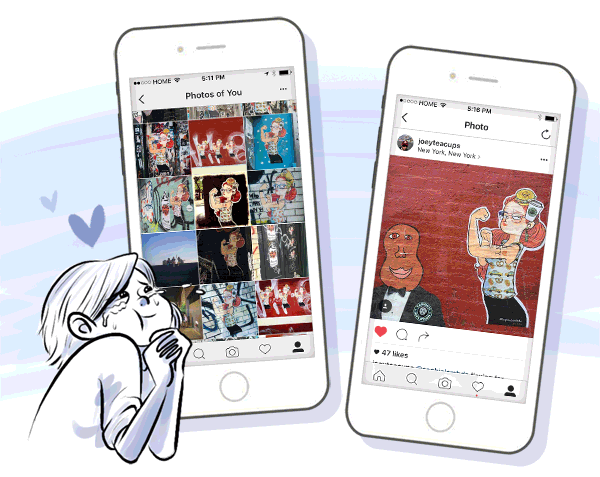 I'll be back home soon. Next step, Paris ? Montpellier ? Who knows ;-)
Randomly yours,
Sophie Lambda,